Address
University of Wisconsin - La Crosse (UW-L)
Student Union
521 East Ave North
La Crosse, WI 54601
U.S. National Grid (USNG) for the East Avenue Entrance: 15T XJ 4240 5308
Phone: 608-785-8888
Email: univcenters@uwlax.edu
Website
---
 General Location Map
UW-L Campus PDF Map:         UW-L Map
Lab Assignments
Two UMGEOCON workshops will be conducted using the geospatial computer labs in Cowley Hall. Those assignments are as follows:
Computer Lab 204A
Leveraging Amazon Web Services
Computer Lab 245
Introduction to Python/ArcPy for Automating Geoprocessing and Map Production in ArcGIS
---
Cowley Hall Location
Please note - the parking lot directly across from Cowley Hall (C-2) is CLOSED to UMGEOCON attendees.  Thus, the closest available parking lot for workshop attendees is R-4.  Map below shows the locations of the UW-L Student Union, Cowley Hall, and Parking Lot R-4.  Additional information about event parking can be foud by scrolling down this page.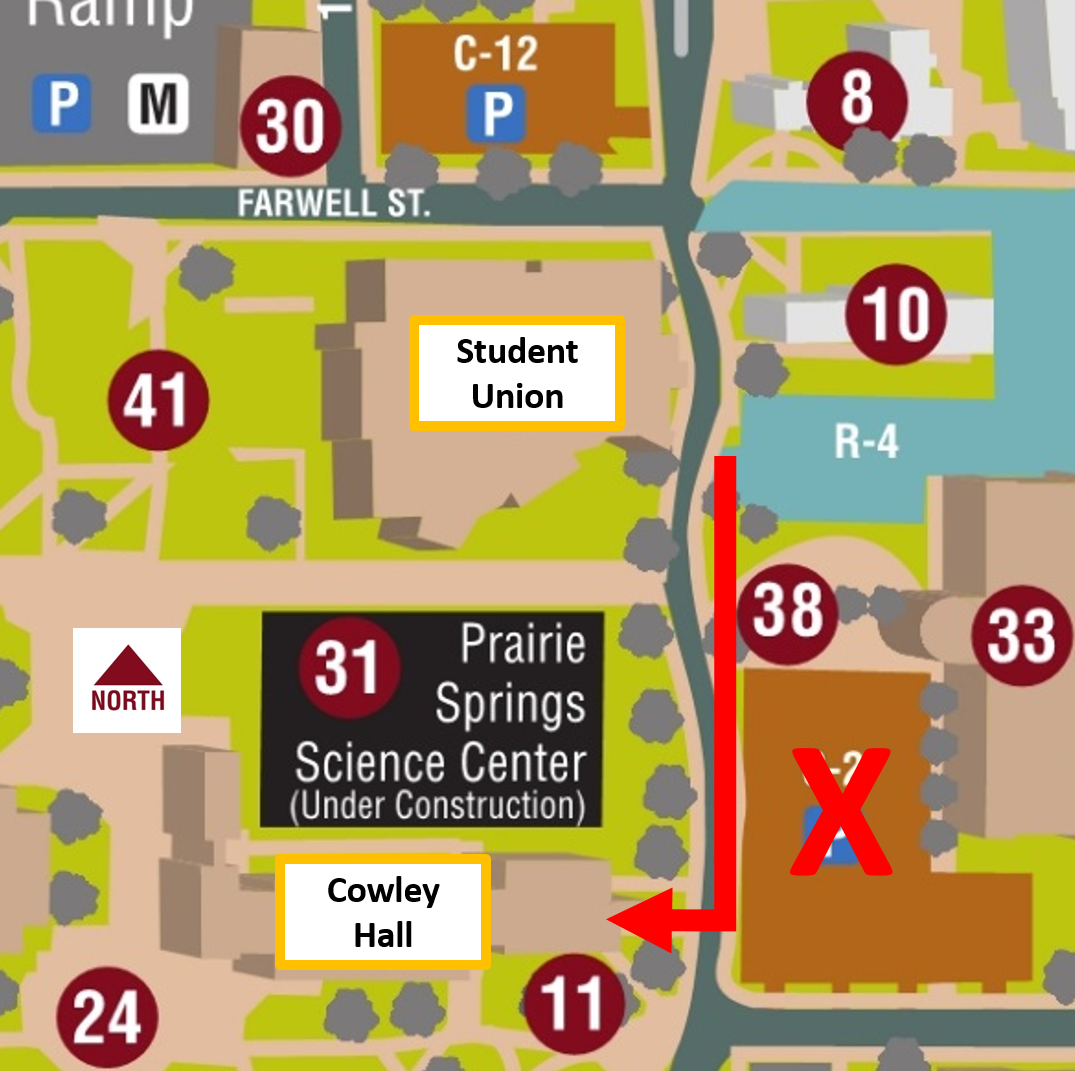 UMGEOCON provides attendees with:
Wednesday, May 23 - Mid-afternoon networking break of cookies and assorted drinks
Wednesday, May 23 - Vendor reception with hor d'oeuvres and cash bar
Thursday, May 24 - Continental breakfast
Thursday, May 24 - Mid-morning networking break of yogurt covered pretzels, fruit and assorted drinks
Thursday, May 24 - Buffet lunch of lasagna, chicken parmesan and accompaniments.  Vegetarian and dietary sensitive options will be available.
There are also a variety of options available for grabbing a quick snack or meal in near vicinity of the UW-L Student Union.  They include:
The food court on the main level (1st floor) of the Student Union will have the following open during each day of the conference:
Grilled It:  10:30 am-1:30 pm
Einstein Bros. Bagels™:  7:15-10:30 am
Local restaurants around the perimeter of the UW-L campus.  Location of the UW-La Crosse Student Union in the map below is denoted by a yellow circular home symbol.
There is dedicated FREE event parking in all Residential (R) and Commuter (C) lots of the UW-L campus EXCEPT for C-2 (in use by another event) and the multi-level parking ramp adjoining the Parking Services and Police Station building (closed for maintenance).  Red X's on the map below denote the off-limit parking lots relative to the Student Union.  The closest usable parking lots to the UMGEOCON event site are R-4 and C-12. The closest over-flow parking lots after R-4 and C-12 are C-7 and R-5.  There is no need to place anything in the window of your car. Additional parking information is available by clicking here.