Petascale High Performance Computing
---
Abstract: With the growth of daily commercial, higher resolution, optical and radar satellite systems to the explosion of centimeter level cameras on Unmanned Aerial Systems, the question is not can one get imagery but how can one handle it all? Petascale High Performance Computing is a major emerging technology system that has bypassed traditional remote sensing computer workstation approaches. This panel is designed to facilitate a broad discussion of where the industry is today and where it is going in the future. The panelists represent a cross section of academic, business, and government sectors.
---
Panelists
---
Mark Korver, MCP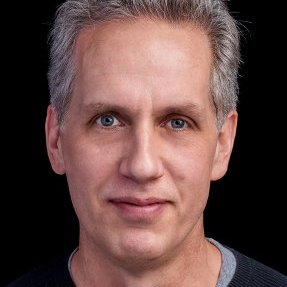 ---
Bio: Mark Korver is the Geospatial Lead on the Specialist Team at Amazon Web Services (AWS) and is based in Seattle. He supports AWS solution architects globally and is attached to larger geospatial customers. In addition, he represents the solution architecture team as the core storage expert.  He holds a Master of City Planning from the Massachusetts Institute of Technology.  Mark was raised in Japan and began his business career as founder of Alchemedia Inc. (Japan), a web application development company located in Tokyo, specializing in mapping and real-estate loan origination.
---
Contact Info:
1007 Stewart St
Seattle, WA 98101
Paul Morin, PHD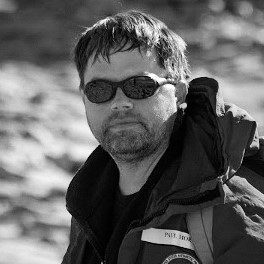 ---
Bio: Paul Morin is Director of the Polar Geospatial Center, a National Science Foundation (NSF) science and logistics support center at the University of Minnesota. Morin serves as the National Academy of Sciences–appointed U.S. representative to the Standing Committee on Antarctic Geographic Information under the Scientific Committee for Antarctic Research (ie, the Antarctic Treaty System). One of his current projects is ArcticDEM a White House initiative to produce a high-resolution, time-dependent elevation model of the Arctic using the NSF Blue Waters Supercomputer at the University of Illinois  Urbana-Champaign (Watch an E-Span video of President Obama describing the project). Morin has dozens of publications in a variety of fields including remote sensing, geoscience education, the carbon cycle, and scientific visualization.
---
Contact Info:
R280 Learning & Environmental Sciences
1954 Buford Avenue
Saint Paul, MN 55108 USA
Work: 612-625-6090
Chris Doescher, PMP, FAC P/PM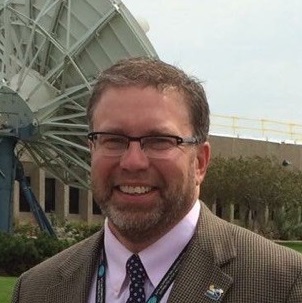 NASA Land Processes DAAC Project Manager
---
Bio: Prior to EROS, Chris Doescher worked for the National Geospatial-Intelligence Agency in St. Louis, Missouri, as a cartographer and process improvement engineer.  His first 7 years were in production of precision targeting and airfield extraction followed by 2 years as process engineer for those operations areas.  Chris started at EROS in 1998 assisting with integration of NASA delivered systems for the launch and early check out (on-orbit initialization and verification) of Landsat 7.  Chris later transitioned to assist with the OhioView and AmericaView efforts for the USGS, establishing a MODIS Direct Broadcast capability, development of Global Visualization, other smaller engineering efforts, and startup of state-based academic consortiums throughout the U.S.  Having experience on several new mission developments, he worked as the lead System Engineer and Project Manager on the Landsat Data Continuity Mission (LDCM) Project responsible for the capital planning, investment control, and management of USGS resources on several threads of LDCM (data buy, National Polar-orbiting Operational Environmental Satellite System (NPOES), and free flyer).  Chris served 10 months as EROS Deputy Director in 2007/2008.  Since then, he has been with the NASA Land Processes Distributed Active Archive Center (LP DAAC) as the USGS Mission Manager and now the LP DAAC Project manager.
Chris Doescher has a BS in Geography from South Dakota State University and a Project Management Professional (PMP) and Federal Acquisition Certification for Program and Project Managers (FAC P/PM) certifications.
---
Contact Info:
47914 252nd Street
Sioux Falls, SD 57198-0001
Work (general): 605-594-6116
Lanny Faleide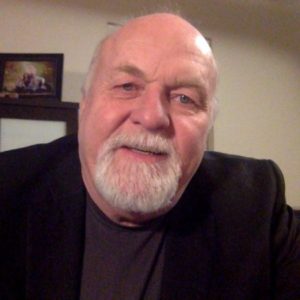 ---
Bio: Lanny Faleide is President of Satshot of Fargo, ND which provides remote sensing to the agriculture community. Satshot has been at the forefront in developing processes and geo spatial web based distribution and analytic software cloud systems to use space based information to manage agricultural resources.
Lanny has over 20 years of experience in ag production. He attended North Dakota State University with emphasis in Ag Economics and GIS. In 1994, Faleide founded and developed Agri ImaGIS, now Satshot. Faleide also received the North Dakota Information Technology Department Entrepreneur Award in 2002.
Satshot provides imagery data and GIS integration services to customers across the world and through its SatShot Cloud system, allows users to easily access analytics of their vegetative biomass image to scout their fields from space via their mobile device to variable apply chemicals and fertilizer to the field in the most efficient method based on vegetative productivity.
---
Contact Info:
10352 Highway 5
Langdon, ND 58249
Work (general): 833-268-6374